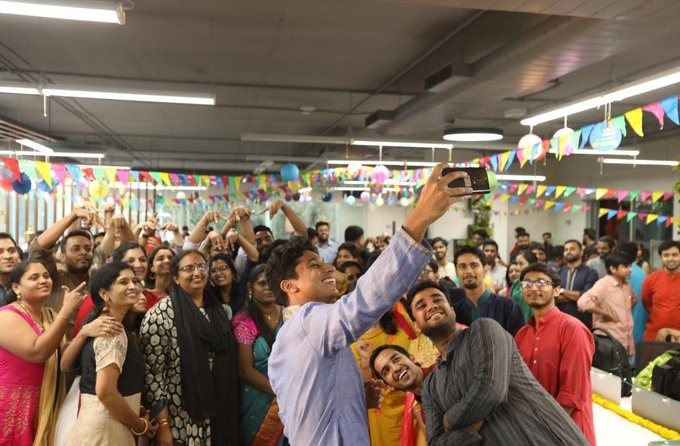 Why should e-commerce be any different than walking through your local, neighborhood market! In India, Meesho enables millions of small businesses to succeed online as it truly democratizes internet commerce for sellers and consumers. Meesho is playing a key role in ensuring small business owners can benefit from this trend. This is why we are thrilled to invest in Meesho.
This article was co-authored by Kabir Narang, Eduardo Saverin and Aakash Tulsani
The pandemic, as we all now know, has forced people to shop, study, and work increasingly online. It has accelerated the pace of digital adoption. We saw this impact on the behavior of customers, small businesses & large enterprises across the world. In the US, online retail penetration as a percentage of overall retail penetration increased from ~5% in 2010 to ~15% in 2019 and in the next 18 months during the pandemic, accelerated to hit 21%. We saw similar trends in Indonesia, China, and India. In India, where retail spend is ~$1 trillion, e-commerce penetration is now ~7%.
This digital revolution is unfolding across markets and accelerated the pace of online adoption in India as well. Meesho is playing a key role in ensuring small business owners can benefit from this trend. The local craftsperson in Jaipur, the trader in Mumbai, the neighborhood store owner in Coorg are increasingly looking to leverage digital channels to grow. Meesho is helping these sellers benefit from this digital revolution. Suppliers can access digital tools and logistics services on Meesho's platform.
This is the reason why we invested in Meesho. It enables millions of small businesses in India to succeed online. Meesho is truly democratizing internet commerce for sellers and consumers.
As this digital revolution unfolds across India, small business owners want to be a part and benefit from this trend. Meesho is enabling the local business owner to reach customers across the country. It's providing the largest selection of unique SKU's with over 10m units across 100+ categories and delivering across 26K+ zip codes in India covering 4.8K+ towns and cities.
We believe the next wave of e-commerce is likely going to play out based on conversations, recommendations, messages, influencer-based video and content.
India's retail market is a diverse mix of shoppers and sellers across income tiers, product preferences, and demographics. While horizontal retailer giants have done great work enabling access to branded goods and electronics to the masses, there is still a gap to satisfy the Indian consumers insatiable need for differentiated goods. We believe the next wave of e-commerce in India will help recreate the magic of India retail online. It will cater to consumers beyond the metros and enable sellers to come online. Platforms will be vernacular first with social networks and leverage content across mediums to enable commerce. Why should e-commerce be any different than walking through your neighborhood market!
We first met Meesho in 2018 and have been closely tracking the company since then. We were impressed by their tech first approach to help bring unorganized retail online for the next 500m internet users across the country.
Meesho has scaled to India's largest reseller-based platform with positive unit economics and have been one of the most capital efficient companies in e-commerce globally. They leveraged this scale to enable low-cost fulfilment at zero commissions for their suppliers helping them come online. They have set this flywheel at an even faster pace by expanding to serve direct consumers early this year. Meesho has been trending as one of the top apps in Google play store since then.
A critical aspect to the scaling of Meesho has been its people and its strong values and culture. Meesho has codified these aspects in nine "Mantras" wherein they encourage employees having a long-term owner mindset, enabling a collaborative workplace and speaking their mind amongst others. They have also led the charge in India tech ecosystem by introducing gender neutral parental leave policy. We were amazed on how consistent these values were as we met the leadership team beyond the founders.
It's a real privilege to be partnering with the entire Meesho team as they re-imagine commerce in India.