By Anuj Varma and Karen Page
In recent years, the impact of climate change has created acute problems for electric utilities around the globe, including disruptive power outages and catastrophic wildfires that have increased in frequency and severity. According to the US Department of Energy, power outages cost the US economy an estimated $150 billion annually[1], and between 2022 and 2023 to date, wildfires have accounted for over $3.2 billion in damage across the US[2].
The single greatest contributor to power outages and wildfires caused by our electric grid is the uncontrolled vegetation that surrounds power lines and utility corridors. As a result, vegetation management – the targeted control and elimination of unwanted trees, branches, brush, and weeds across land territories – has become one of the largest areas of operational spend for utilities, amounting to billions of dollars every year. To date, however, the ability of utilities to understand vegetation has been extremely limited – with decision makers relying on low resolution data with limited granularity, expensive / labor-intensive techniques like foot patrols, helicopters, or drones with data that is quickly outdated and not available at scale, forcing utilities into reactive vegetation management and putting their land territories at risk.
When we learned about Overstory's solution, we were immediately attracted to the best-in-class, proactive vegetation management platform it offers to solve critical and urgent issues faced by utilities today. At B Capital, a key element of our climate thesis is climate risk management – using analytics and data-driven insights to help protect assets and operations – and Overstory fit squarely within our worldview. We're thrilled to announce our Series A lead investment in Overstory following our original investment in the company's 2022 seed extension round.
Overstory delivers satellite-based vegetation intelligence at scale – analyzing the Earth's vegetation to prevent wildfires and power outages, enabling smarter infrastructure management and safer communities. By applying artificial intelligence to satellite imagery, Overstory provides electric utilities with visibility, risk analysis, and optimization recommendations for vegetation management throughout an entire service territory.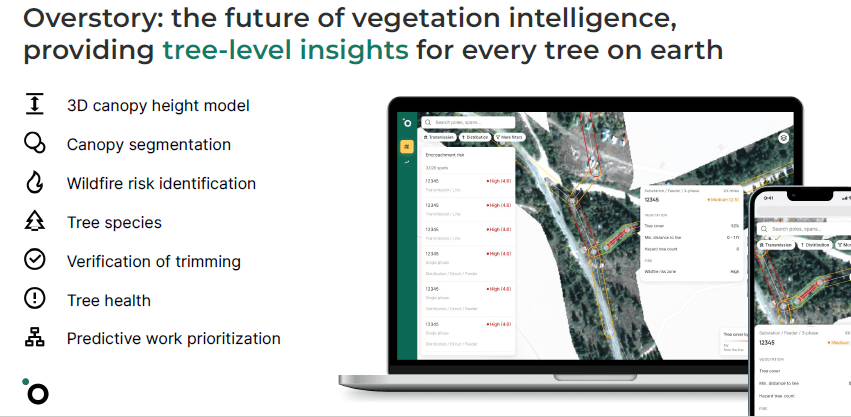 We've been continually impressed with the depth of Overstory's solution and their ability to deliver high-impact results to a range of electric utility customers, several of which are the largest utilities in the US and Europe. Overstory's technology is scalable and cost-effective, trained across nearly two million square miles in over 150 cities globally, allowing customers to quickly understand vegetation risk and prioritize action plans across a network. Moreover, the platform's high accuracy – delivering detailed tree-level data on vegetation species, health, height, and proximity to transmission lines – enables precise and predictive risk-based planning within vegetation management. These robust and comprehensive capabilities have led to industry-leading growth in a market with an urgent need for advanced technology solutions.
Overstory is led by founding CEO Indra den Bakker, an experienced data scientist who has built a diverse and highly skilled team with a presence in both Europe and the US. Indra's mission-driven leadership and ability to execute has propelled Overstory's progress with utility customers from the US, Canada, Europe, and Brazil.
Through our global footprint and partnership with BCG, we look forward to continuing to support Indra and his team. We believe Overstory is building a critical solution to help utilities around the world prevent wildfires and power outages, a key component of solving our climate crisis and ending biodiversity loss. B Capital is excited to partner with Overstory in its mission, reflecting our strategy of investing in innovation that helps industries adapt to changing environments.
[1] https://www.energy.gov/ne/articles/department-energy-report-explores-us-advanced-small-modular-reactors-boost-grid
[2] https://www.bankrate.com/insurance/homeowners-insurance/wildfire-statistics/